Markets & Applications:
Industrial Processes
Reactivated carbons can help purify organic and inorganic chemicals, amine, and soda ash. Additionally, Calgon Carbon provides activated carbon products and services that effectively decolorize certain chemicals, such as hydrochloric acid. Custom Industrial Reactivated Carbon (CIR) is often used for purification of Ultrapure water for power generation and electrical production.
Learn More >>
Environmental Water Treatment
Calgon Carbon can offer safe and economical spent carbon handling and thermal reactivation in conjunction with fresh carbon supply and provide personnel and equipment to perform the carbon exchange on a turnkey basis.
Learn More >>
Features & Benefits
After a granular activated carbon's adsorptive capacity has been exhausted, it can be returned to Calgon Carbon for thermal reactivation. A number of important steps are involved in the reactivation process:
Spent activated carbon is heated in furnaces devoid of oxygen using steam as a selective oxidant.
Adsorbed organics are either volatilized from the activated carbon or pyrolysed to a carbon char.
Volatilized organics are destroyed in the furnace's afterburner.
Acid gases are removed by means of a chemical scrubber.
The high-temperature reaction with steam serves to restore the adsorptive capacity of the activated carbon.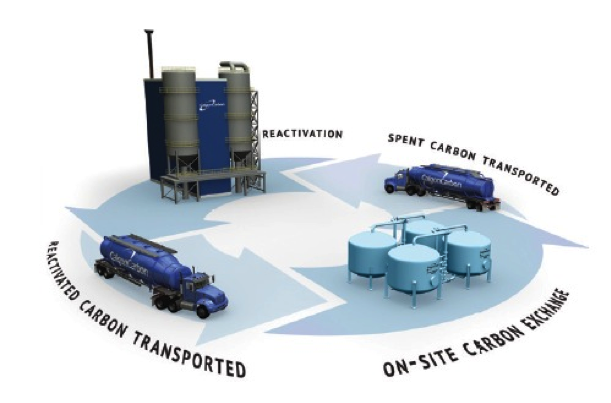 Through reactivation, the spent granular activated carbon can be recycled for reuse, virtually eliminating the costs and long-term liability associated with disposal. The environmental benefits of a reactivated product over a virgin carbon are an efficient, cost-effective alternative – where appropriate.
Hazardous vs. Non-hazardous Reactivation
Calgon Carbon's reactivation furnaces in Kentucky and Pennsylvania are fully permitted to accept RCRA hazardous spent carbons as well as non-hazardous carbons. In either event, the spent carbons are stored under water. The vent emissions are treated by carbon adsorption until the spent carbon is conveyed to the furnace for reactivation. Other company facilities offer reactivation services only for non-hazardous spent carbons.
Modes of Return
Once accepted for reactivation, we work with our customers to find the most cost-effective and efficient modes of return for the spent carbon. Common methods of return include super sacks (each holding approximately 1,000 pounds of carbon), flatbed trucks and bulk shipments by means of either Calgon Carbon private fleet potable trailers (more common at sites using steel pressure vessel filters) or dump trucks.
Calgon Carbon also provides a host of top notch Field Services to remove and install the carbon in the most efficient manner – maximizing the customer's economic benefit and minimizing disruptions to the operations.
Products: