Calgon Carbon Relocates New Headquarters
Pittsburgh, PA – 02/20/2015
• Combining Headquarters with R&D Center
• Reduced overall square footage by 22,000 SF
• Expected to Qualify for LEED Certified Gold®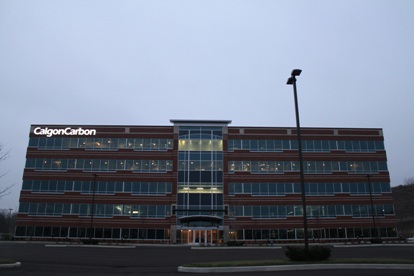 Calgon Carbon Corporation (CCC: NYSE), an environmental technology company headquartered in Pittsburgh, announced today that it has officially moved its world headquarters to the newly constructed, Westpointe Corporate Center Four in Moon Township, PA.
Calgon Carbon has entered a 15-year lease with DiCicco Development to occupy 75,566 sq. ft of the 130,000 sq. ft. building. Approximately 200 of the company's executive staff, sales, and service employees made the move in early February. The research and development laboratory, which will be known as the Innovation Center, will be completed later this year. By consolidating the headquarters with its laboratory, Calgon Carbon will reduce its office square footage by approximately 22,000. The building is expected to qualify for LEED certification in the Gold category.
In addition to the corporate staff and R&D, the new headquarters will be home to Calgon Carbon's Industrial, Municipal and Specialty business units. The Ultraviolet Technologies division, including Hyde Marine® Ballast Water Management Technology, will continue to reside in McClaren Woods business park, also in Moon Township.
"This headquarters represents a new chapter for Calgon Carbon," said Randy Dearth, Chairman, President and CEO, Calgon Carbon. "We've transformed this company over the past two years and this new location is a great fit for the footprint of our company."
The design of the building focuses on open workspaces that emphasize collaboration. Gretchen Barlett, of Barlett Design, an architecture and interior design firm, worked closely with DiCicco Development and Randy Dearth to achieve a progressive corporate environment that encourages frequent employee interaction.
"Randy is a big proponent of open-door work settings. He wanted the design of the building to support coworker interaction." With that direction, Gretchen designed multiple areas where employees could catch up with each other outside of traditional conference rooms or offices. Collaboration spaces feature dry erase walls and café-style island counters – ideal for working through ideas that could otherwise get stifled in traditional conference rooms.
Consistent with Calgon Carbon's commitment to sustainability, the building features the use of photovoltaic solar power, energy saving occupancy sensor lighting controls, a high-efficiency zone heating and cooling system, a living vegetation roof, and ergonomic workstations with access to daylight.
For more information about Calgon Carbon's leading activated carbon and ultraviolet technology solutions for municipalities and industries, or to view the entire Sustainability Report, visit calgoncarbon.dev.
###
Pure Water. Clean Air. Better World.
Calgon Carbon Corporation (NYSE:CCC), headquartered in Pittsburgh, Pennsylvania, is a global leader in innovative solutions, high quality products and reliable services designed to protect human health and the environment from harmful contaminants in water, and air. As a leading manufacturer of activated carbon, with broad capabilities in ultraviolet light disinfection, the Company provides purification solutions for drinking water, wastewater, pollution abatement, and a variety of industrial and commercial manufacturing processes.
This news release contains historical information and forward-looking statements. Forward-looking statements typically contain words such as "expect," "believe," "estimate," "anticipate," or similar words indicating that future outcomes are uncertain. Statements looking forward in time, including statements regarding future growth and profitability, price increases, cost savings, broader product lines, enhanced competitive posture and acquisitions, are included in the company's most recent Annual Report pursuant to the "safe harbor" provision of the Private Securities Litigation Reform Act of 1995. They involve known and unknown risks and uncertainties that may cause the company's actual results in future periods to be materially different from any future performance suggested herein. Further, the company operates in an industry sector where securities values may be volatile and may be influenced by economic and other factors beyond the company's control. Some of the factors that could affect future performance of the company are higher energy and raw material costs, costs of imports and related tariffs, labor relations, availability of capital and environmental requirements as they relate both to our operations and to our customers, changes in foreign currency exchange rates, borrowing restrictions, validity of patents and other intellectual property, and pension costs. In the context of the forward-looking information provided in this news release, please refer to the discussions of risk factors.
###